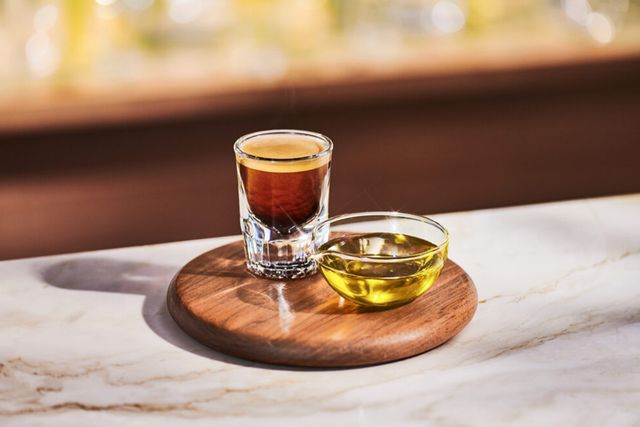 Posted on
---
Starbucks is introducing a new line of beverages made with extra virgin olive oil in Italy, with plans to roll them out in other markets this year. These drinks are not just flavored with olive oil but are made with a spoonful of oil, adding 120 calories to the total. The drinks include an Oleato latte with oat milk and olive oil, an Oleato ice shaken espresso with oat milk, hazelnut flavor and olive oil, and the Oleato golden foam cold brew, made with a version of Starbucks' sweet milk foam infused with two olive oil servings.
The infusion of extra virgin olive oil is essential, creating a luxurious, textural experience that's similar to whole milk. Starbucks experimented with a variety of high-quality arabica blends and chose not one, but two Starbucks espressos. For the lineup in Starbucks stores, they found the extra virgin olive oil infusions paired beautifully with Starbucks Blonde Espresso Roast, which has smooth, well-rounded flavors that are delicious both hot and iced. For the Starbucks Reserve Roastery beverages, they used Starbucks Reserve Espresso and added an iced cortado beverage with a hint of orange. The name for the new line is Oleato, a play on the Latin word for "olive" and the Italian word meaning "with oil." Something similar to PURA olea, isn't it? :)
Adding olive oil to coffee has several benefits. Olive oil is a rich source of healthy fats, antioxidants, and anti-inflammatory compounds. It can help reduce the risk of heart disease, lower blood pressure, and improve cholesterol levels. Additionally, the infusion of olive oil with coffee creates a luxurious and unique textural experience that enhances the flavor profile of the coffee.
Many people are eagerly awaiting the launch of Oleato in their local Starbucks stores. However, we have already tried making similar beverages at home using our PURA olea extra virgin olive oil and loved it. It will be interesting to see what other creative ways food and beverage companies will use olive oil in their products in the future.
We are here to help!
150 Etruria St.,
Seattle, WA, 98109
care@puraolea.com
Sign up to our mailing list