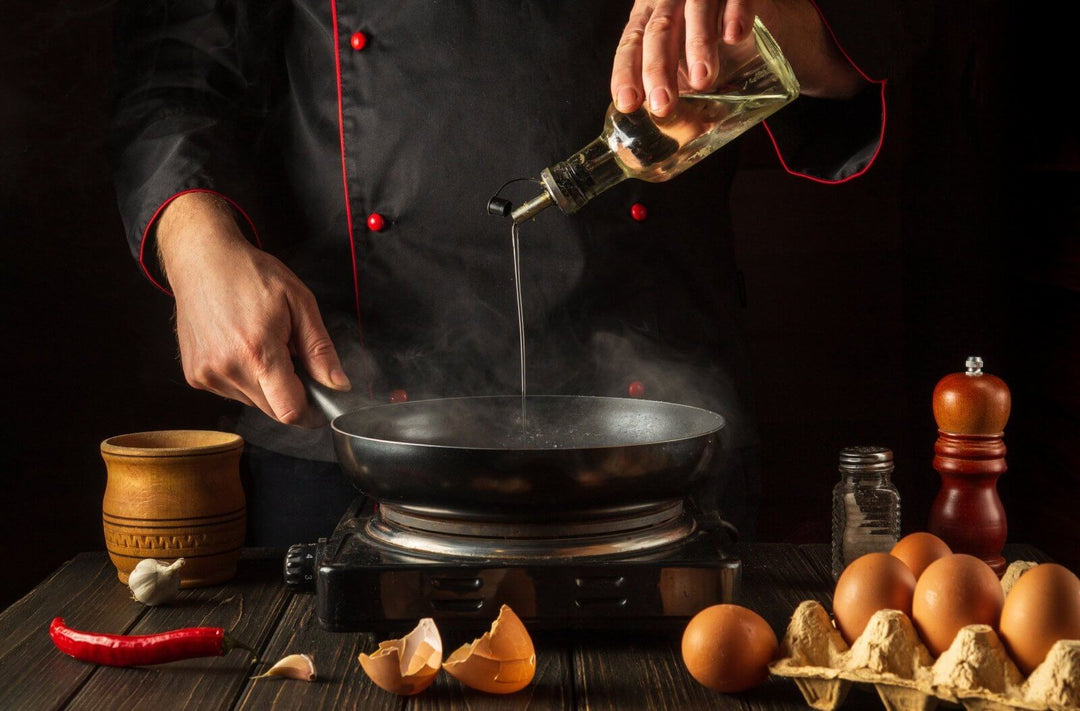 Posted on
---
Olive oil is famous for all the health benefits it offers. Therefore, people are increasingly using it for cooking. You can incorporate it into baking goods, use it to cook pasta and pizza, or as a salad dressing. However, did you know you can also cook eggs with olive oil?
Below, we have talked about cooking eggs with olive oil and shared some tips for the same!
Cooking eggs in olive oil
Cooking eggs in olive oil will give you better results. The scrambled eggs will have a silky smooth texture, and if you fry them, they will have fine crisp edges. Moreover, olive oil is healthy for your body, giving you another reason to use it over butter. Therefore, it is a win-win for your body's health and taste buds.
Smoke point
The temperature of cooking fat (oil, lard, butter, etc.) beyond which it starts to smoke is called the 'smoke point.' Remember, the higher the smoke point is, the better it is for frying. Additionally, oils with higher smoke points contain less saturated fat than lower smoke point oils, making the former healthier for your heart.
However, many people believe that olive oil does not have a high smoke point; therefore, it is not great for high heat cooking. But, that is not true as olive oil has a very high smoke point, especially extra virgin olive oil (EVOO), making it best for pan-frying. Plus, if the oil is purely refined, you can even deep fry your eggs.
Frying eggs in olive oil
Make sure you use a skillet with flat sides and a flat bottom. It must also have a lid to avoid oil splatter. It should allow you the space to cook multiple eggs at a time and move them around in it.
Preheat the skillet over medium heat. The oil will begin to shimmer after a minute or two. Add the egg to the skillet when the oil is hot. Remember, the oil must be shimmering but should not be close to smoking.
Crack the egg into a ramekin, and once the oil begins to shimmer, add the egg. Make sure to cover the pan to avoid oil splatter.
Fry the egg for 30 to 60 seconds and remove the lid. Then, remove the egg from the pan using a slotted spoon.
Tips for cooking eggs in olive oil
Make sure to preheat the oil and pan properly; otherwise, the cooking time will increase, resulting in the oil soaking into the eggs rather than cooking them.
You should wait for the oil to start shimmering before adding the eggs to the skillet/pan.
Remember, the oil is hot enough to cook the eggs if it is shimmering. Therefore, do not leave them in the oil for long; otherwise, they will become greasy or burn.
About Pura Olea
It must be clear now that you can cook eggs in olive oil. At Pura Olea, we deal in premium quality olive oil extracted from hand-picked olives. Our clients choose us for our authentic products that come with healthy promises. For more information, contact us at (425) 243-9574, write to
care@puraolea.com
, or fill out our 
contact form
.
We are here to help!
150 Etruria St.,
Seattle, WA, 98109
care@puraolea.com
Sign up to our mailing list