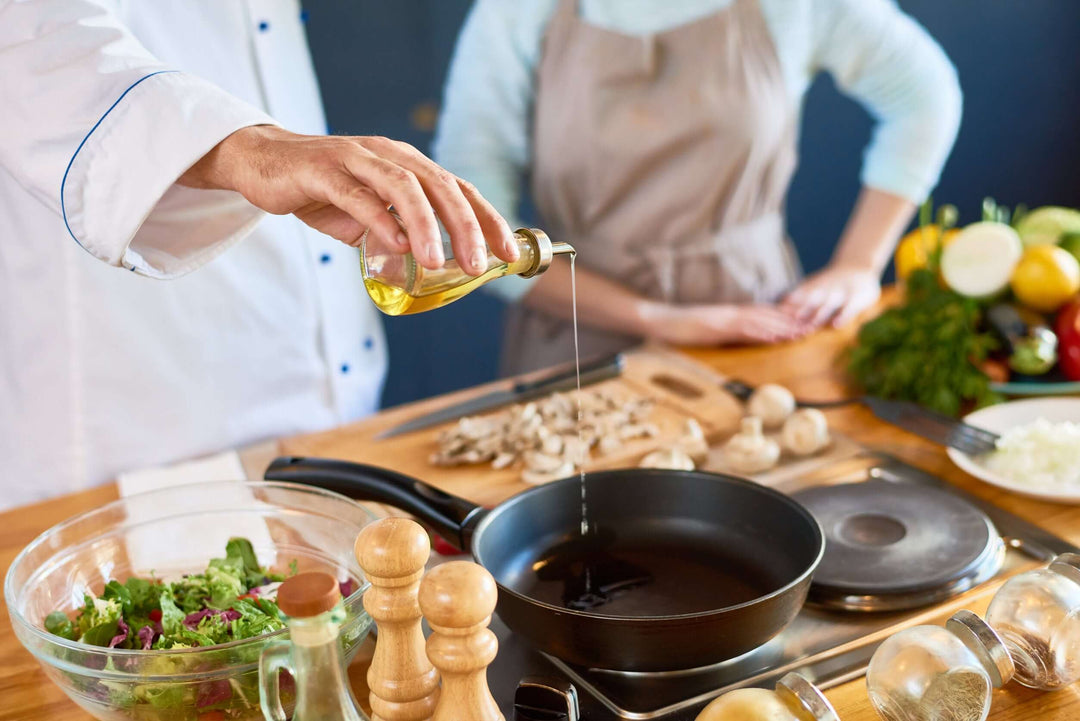 Posted on
---
People are increasingly using olive oil for cooking all across the globe. You can use it as a salad dressing, for cooking pasta, or even for baking a cake. Despite its increasing popularity and reputation as 'liquid gold', many people do not actually know its benefits for cooking. Besides adding flavor to your food, olive oil also has several other benefits.
Below, we have listed the top six advantages of olive oil for cooking!
1. It may reduce the risk of certain cancers- While olive oil is not a magical ingredient to cure cancer, its consumption can help reduce the cancer rates in countries where it is a staple diet ingredient. Experts suggest that premium extra virgin olive oil (EVOO) triggers changes in gut bacteria that can help you prevent colorectal cancer. Moreover, women who consume olive oil are at a lower risk of breast cancer and colon cancer.
2. It supports healthy memory and brain functioning- Oxidative stress can result in neurodegenerative diseases, like Alzheimer's. But, the polyphenols present in EVOO act as effective antioxidants to help counter this issue. Experts believe oleocanthal-rich olive oil restores healthy blood-brain barrier function and slows down the progress of Alzheimer's.
3. It supports a healthy mental outlook and mood- Olive oil is loaded with brain-nourishing nutrients which can elevate your mood and even help with depression. The beneficial fats present in the oil support the nervous system and contribute to the smooth functioning of the nerves.
4. It combats pain and inflammation- You must use olive oil for cooking food if you have arthritis or other chronic inflammatory conditions. Monosaturated fats present in olive oil can reduce inflammation levels resulting from conditions like rheumatoid arthritis. EVOO is rich in polyphenol oleocanthal which has shown anti-inflammatory properties. Therefore, its regular consumption will put you at lower risk for inflammatory diseases.
5. It helps boost bone health and strength- Research has shown that women who regularly consume olive oil have increased bone density, even after accounting for their intake of vitamin D and bone-building calcium.
You should know that inflammation in our body can trigger the osteoclast cells, resulting in the breaking down of the bones. However, the anti-inflammatory polyphenols in olive oil can stimulate bone formation and prevent bone breakdown.
6. It supports a healthy immune system- A healthy immune system is essential to keep health problems and diseases at bay. If you want to avoid a cold, manage an autoimmune condition, or curb the risk of cancer, all you need is a strong immune system. Consuming three tablespoons of EVOO will result in quicker growth and activation of T-cells and other immune cells that attack foreign bacteria and viruses.
About Pura Olea
You must have understood the advantage of olive oil for cooking. At Pura Olea, we use only early harvest and handpicked olives for manufacturing premium quality olive oil which is also flavor-packed. Our clients vouch for us as the best olive oil company in the USA. For more information, contact us at (425) 243-9574, write to care@puraolea.com, or fill out our contact form.
We are here to help!
150 Etruria St.,
Seattle, WA, 98109
care@puraolea.com
Sign up to our mailing list