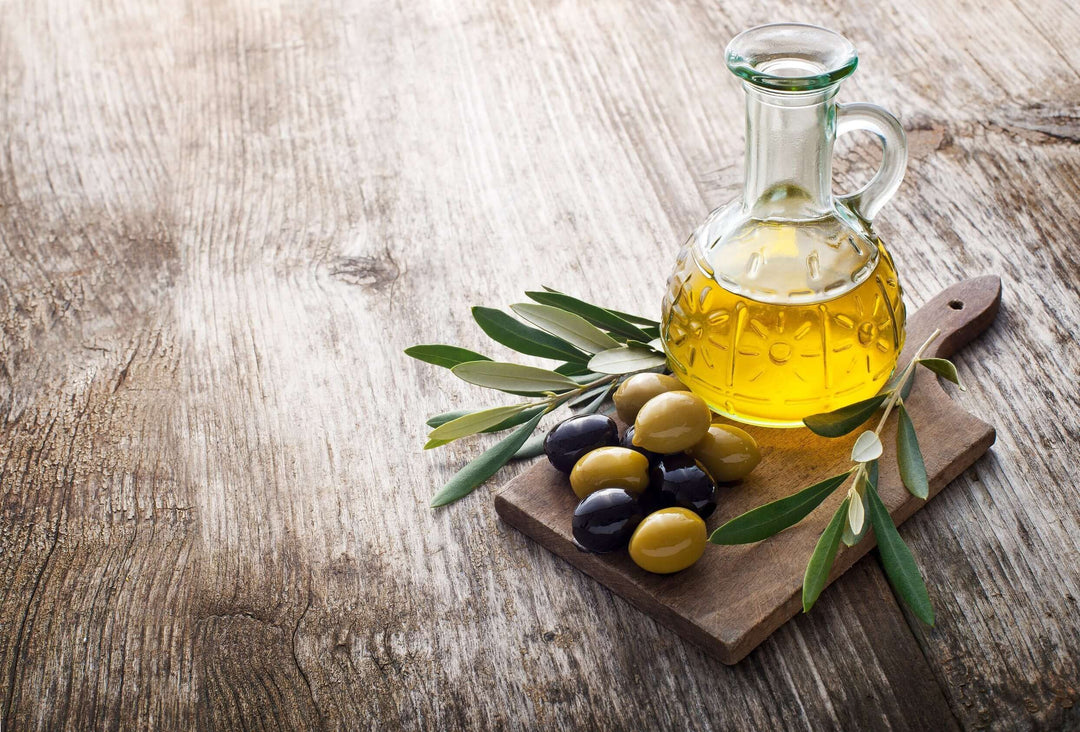 Posted on
---
Olive oil provides unrivaled health benefits as it is naturally rich in fatty acids. Several types of olive oil are available in the market- extra virgin olive oil, virgin olive oil, organic olive oil, regular olive oil. However, organic olive oil provides more benefits than its other varieties. It helps in weight loss, combats mood disorders, and improves cholesterol levels. Let's take a look at the 12 health benefits of organic olive oil.
Boosts hair and skin health -

Organic olive oil is rich in Vitamin E, an antioxidant that protects your body from eye and skin problems and makes your skin and hair much healthier. It can also protect you from diabetes, lung cancer, and neurological diseases like Alzheimer's.

Protects against diabetes -

If you wish to treat your diabetes or protect yourself against it, your diet must be enriched with olive oil, low in saturated fats, moderately rich in carbohydrates, and soluble fiber from fruit, pulses, vegetables, and grains. It will help you improve blood sugar control and insulin sensitivity.

Improves blood cholesterol levels -

It lowers total blood cholesterol, LDL-cholesterol, and triglycerides levels. LDL cholesterol increases the risk of heart diseases and heart attack, and olive oil helps reduce its oxidation effects.

Boosts your metabolism -

Olive oil improves the growth of good bones, brain development in children, and metabolism. Since it is rich in Vitamin E, it is beneficial for the elderly too.

Fights against mood disorders and depression -

Low-fat diets can often lead to depression and anxiety. If your brain does not get enough 'happy hormones' (like dopamine or serotonin), you may experience mood disorders. Organic olive oil can prevent neurotransmitter dysfunction with its hormone-balancing and anti-inflammatory effects.

Slows aging process

- Since organic olive oil is rich in antioxidants, it is used in several cosmetic products and natural herbal therapy to slow the natural aging process. It will help you get that natural shine and glow and do wonders for your skin.

Helps in weight loss -

Despite being high in calories, you are less likely to gain weight from olive oil. In fact, it can help you lose weight and fight obesity.

Protects against Osteoporosis -

Olive oil improves bone mineralization and calcification. It helps in calcium absorption and prevention of Osteoporosis.

Prevents gallstones -

Adequate organic olive oil consumption can lower the risks of developing gallstones. Gallbladder flushes contain large quantities of lemon juice and olive oil.

Strengthens healthy cell walls -

Olive oil contains polyphenol, which strengthens cell walls. It also protects you against various heart problems by increasing the elasticity of arterial walls.

Improves digestion -

It smoothens the digestive process, clears the digestive tract, and improves bowel movements.

Works as an anti-inflammatory -

Organic olive oil contains oleocanthal- a compound responsible for the tingling or burning sensation when tasting high-quality olive oil. Plus, the phenols in oil have anti-inflammatory properties and work like painkillers.
About PURA olea
Organic olive oil is undoubtedly very beneficial for the human body. Your search for the best organic olive oil ends at PURA olea. We deal in high-quality olive oil and we are known for our authentic products. For more information about us, contact us at (425) 243-9574, reach out to us at care@puraolea.com, or fill the contact form.
We are here to help!
150 Etruria St.,
Seattle, WA, 98109
care@puraolea.com
Sign up to our mailing list