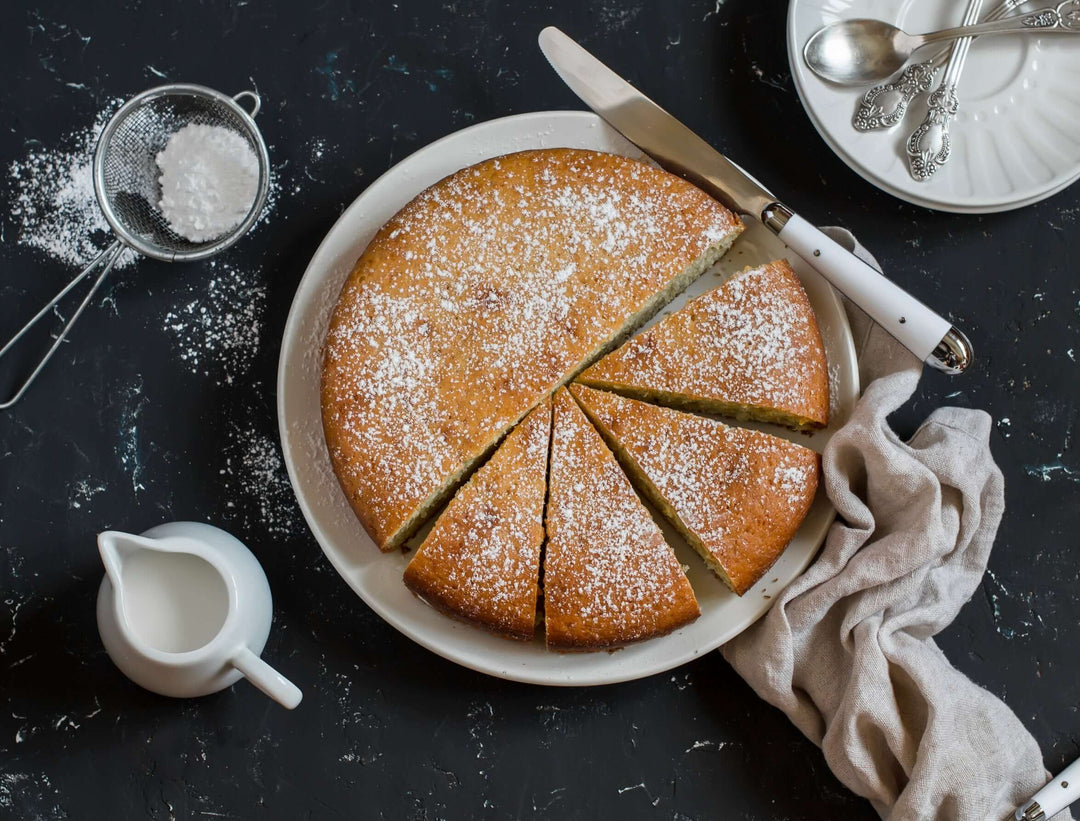 Posted on
---
Summers are all about beating that scorching heat with good food and good people around. Talking about food, there is nothing better than cooking in olive oil because of its health benefits and the excellent taste it offers.
If you are a fan of olive oil, the best food you can have this summer is a simple, wonderfully light, and moist olive oil cake. It has a light, fragrant sponge texture and a subtle, pleasant flavor with a hint of zest. It will perfectly complement your afternoon cup of coffee during these hot summers.
However, you might be worried about not being able to ace the recipe. Worry not! This olive oil cake is perfect for all the beginners out there.
Below, we have mentioned the best olive oil recipe to try this summer!
Ingredients
6 oz Pura Olea organic extra virgin olive oil

2 oz orange juice

3 eggs

Zest of 1 orange

5 oz sugar

6 oz all-purpose flour

1/2 tsp baking powder

3 tbsp labneh

2 tbsp orange juice

1 tsp honey
Recipe
Preheat your oven to 350 F.

Take a bowl and mix Pura Olea organic extra virgin olive oil and orange juice.

Take a medium bowl and whisk eggs, sugar, and zest of orange in it.

Mix flour and baking powder in a separate bowl.

Add 1/3 of the flour mixture and 1/3rd of the oil mixture to the egg mix and whisk until it looks homogeneous.

Then, add the other 1/3rd of the dry ingredients and add the other 1/3rd of the oil mix.

Add the rest of all ingredients and whisk until it looks smooth.

Add the batter to the cake pan. Let it bake for around 20 to 30 minutes.

For the top layer of the cake, whisk labneh, orange juice, and honey in a bowl.

Spread the labneh mixture on the top of the cake. And, you are good to go!
Note: You can also check out our Instagram page to view the reel we made on the same recipe. You can also find out more recipe videos on the page that use healthy, pure olive oil.
Why should you try out this recipe?
You should try out this recipe simply because it's tasty and is also beneficial to your health, especially if you are a fitness enthusiast. You can enjoy this recipe even on a strict diet without feeling guilty about it. In fact, it is the perfect food to serve when your gym buddies or workout partners are coming over! However, remember to use only our pure and premium olive oil made from organically grown and handpicked olives when cooking.
About Pura Olea
The above-mentioned recipe is perfect for yourself or others when you're trying to bake something healthy yet delicious. At Pura Olea, we use only early harvest and handpicked olives to derive oil. Our clients choose us for our flavor-packed and premium quality olive oils which pack a flavor like no other. For more information, contact us at (425) 243-9574, write to
care@puraolea.com
, or fill out our 
contact form
.
We are here to help!
150 Etruria St.,
Seattle, WA, 98109
care@puraolea.com
Sign up to our mailing list