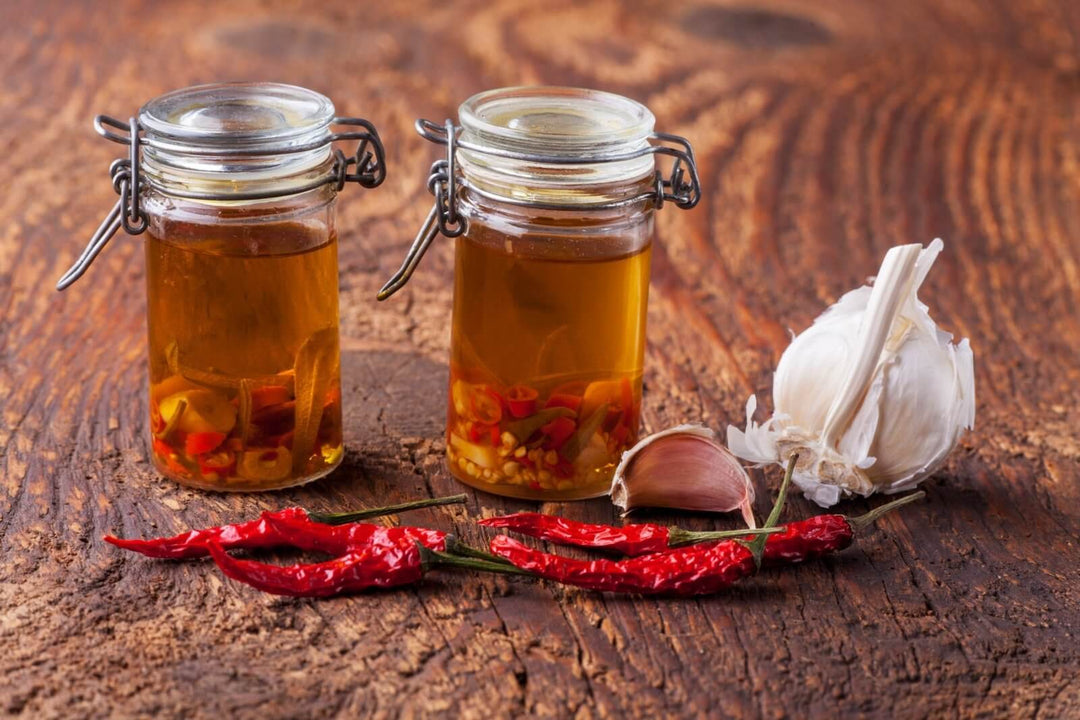 Posted on
---
A staple ingredient of the Mediterranean diet, olive oil accentuates the flavor of any dish. It is loaded with monounsaturated fatty acids, which are healthy fats. However, getting a variety of flavors with plain olive oil can be challenging. Therefore, you should use infused olive oils for cooking as they are easy to prepare, inexpensive, and bring diversity to the flavor palette.
You can prepare various types of infused olive oils by mixing the desired flavor or element with the oil. For instance, if you want to prepare chili olive oil, infuse olive oil with chili peppers. If you want to infuse a lemony flavor into the oil, mix it with lemon zest. 
Below, we have discussed nine infused olive oil ideas that will transform any dish!
1. Garlic olive oil- It is one of the most popular infused oils out there. However, you must be careful while adding garlic to the olive oil; otherwise, it can lead to botulism- a disease caused due to the growth of bacteria in the oil. 
Therefore, before making the infused olive oil, ensure you first cook the garlic. It will lower the chances of this disease developing in the oil.
2. Chili olive oil- It is a must-have oil in your kitchen. It can instantly elevate the flavors and color of your dishes. Make sure you finely crush the chili peppers because the finer they are, the brighter and more intense the oil would be. You can use chili olive oil in several Asian and Italian dishes to bring out the flavor more beautifully.
3. Basil olive oil- Adding fresh herbs, such as basil, to olive oil elevates the flavors of your dishes to a whole another level. Basil-infused olive oil is a perfect match for crusty toasted bread, salads, eggs, and fish.
4. Rosemary olive oil- You can mix fine rosemary with olive oil to get Rosemary Olive Oil. Pair it with chicken or roasted potatoes, and even popcorn, to get a mouth-watering flavor profile. In fact, several people consider it as a great gifting option.
5. Lemon zest and thyme olive oil- Mixing lemon zest and thyme with olive oil gives you the ideal oil for several dressings, as lemon vinaigrette can elevate a salad which is exactly what you need for summer.
6. Sun-dried tomato olive oil- Sun-dried tomatoes go well with pizzas, flatbreads, salads, and pasta. If you infuse these tomatoes with olive oil, it will enhance the Italian flavor of these dishes.
7. Truffle olive oil- Truffle is a mushroom commonly used in French gourmet cuisine. If you can find truffles in a nearby market, buy and mix them with your olive oil to dramatically elevate your cooking.
8. Blood orange-infused olive oil- Citrus is an essential element of every dish as it balances all the other flavors. Similarly, blood orange's bright citrus flavor brings out a unique flavor in your olive oil. Infusing the blood oranges into your olive oil is ideal for baking brownies and blood-orange olive oil cakes.
9. Orange olive oil- If you want to get a tangy flavor in your dish, infuse olive oil with orange zest. You can add this infused oil to your pound cake and improve the flavor of this rich dessert.
About the business
The above-mentioned infused olive oil recipes will instantly elevate any ordinary dish. At Pura Olea, we sell high-quality olive oil extracted from hand-picked olives. Our clients choose us for our efficiency and the excellent reputation we hold. For more information, contact us at (425) 243-9574, write at care@puraolea.com, or fill out our contact form.
We are here to help!
150 Etruria St.,
Seattle, WA, 98109
care@puraolea.com
Sign up to our mailing list