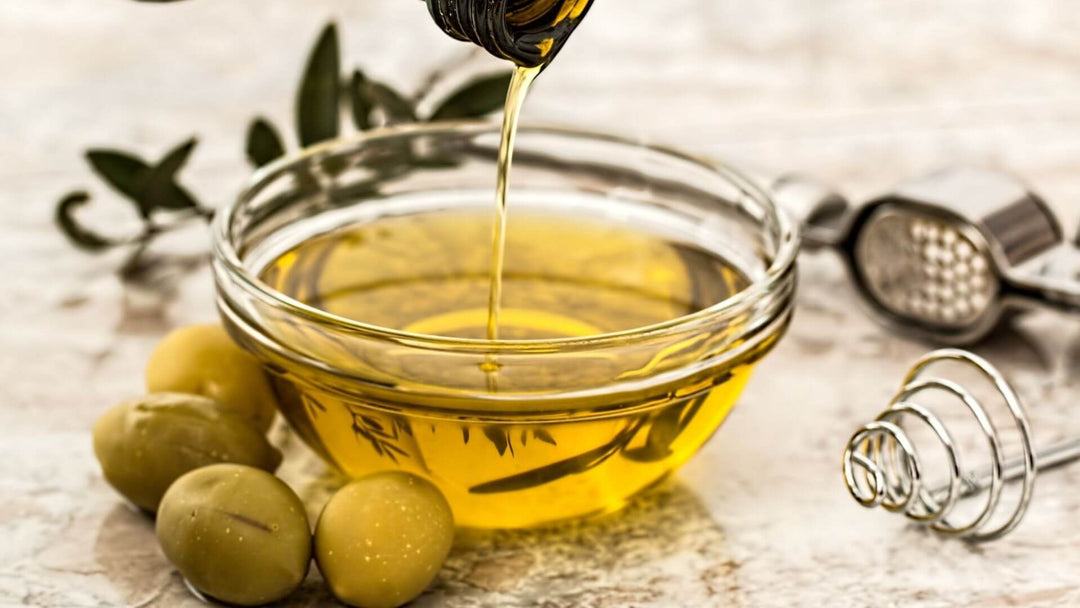 Posted on
---
Most people regularly use oil to prepare a variety of dishes, including vegetables, meat, eggs, sauces, and more. Of course, not all oils are created equally - there is healthy cooking oil and unhealthy cooking oil. Therefore, it is essential to consider whether your oil is healthy to consume even after heating it for cooking. Remember, all cooking oils have smoke points- temperatures at which they are no longer suitable for use. Therefore, do not use oils for cooking at temperatures above those smoke points.
This blog guides you about the four healthy cooking oils that are suitable for high heat cooking.
Olive oil -

Its smoke point is 350°F (176°C), making it suitable for several recipes, especially baked goods.

People use it for cooking purposes because of its versatility and subtle grassy or peppery flavor. You can also use it for sautéing, baking, or cold dressings.

The oil also has anti-inflammatory and anti-cancer properties and contains antioxidant compounds- oleuropein and oleocanthal, which can help you prevent LDL cholesterol. It is also suitable for the heart and prevents health problems like obesity and type 2 diabetes.
Safflower oil - Made from seeds of the safflower plant, it has a neutral flavor that works well for sauces, dips, and marinades. You can also use safflower oil for barbecuing and frying. It is low in saturated fat and contains high unsaturated fatty acids. Therefore, daily consumption of safflower oil can improve blood sugar management, cholesterol, and inflammation. The smoke point for safflower oil is 510°F (265°C).
Sesame oil -

With a smoke point of 410°F (210°C), it is suitable for general cooking, salad dressing, and sautéing. Its mild nutty flavor makes it an excellent fit for several stovetop dishes. In addition, sesame oil is enriched with healthy antioxidants, like sesamol and sesaminol, which protect against several diseases like Parkinson's. However, remember that toasted sesame oil and regular sesame oil are different. The former has an elevated nutty flavor, making it more suitable for dressing than cooking.

Avocado oil -

Having a smoke point of 520°F (271°C), avocado oil is appropriate for high heat cooking like deep frying. The temperature does not affect its nutritional quality in any way. Avocado oil compounds can help lower LDL cholesterol, blood pressure, and triglycerides, safeguarding you against heart diseases. Various factors, like the extraction methods and the place where the avocados were grown, affect the quality of your avocado oil.
Oils you should not use
You cannot use all types of oils in high heat cooking. However, you can use them as dietary supplements or in cold preparations:
Flax oil -

It has a low smoke point of 225°F (107°C). It is suitable for cold uses like salad dressings.

Fish or algae oil -

You should not use it for cooking; instead, consume it cold and in small doses.

Walnut oil -

It is best for salad dressing as it has a low smoke point of 320°F (160°C).

Palm oil -

Its production is associated with environmental loss like loss of biodiversity and rainforest destruction.
About PURA olea
There are a lot of cooking oil options to choose from. However, the olive oil you choose can affect your health and the quality of food you consume. We recommend using pure oil for cooking healthy and delicious food. Visit our store online to buy the best olive oil and have it shipped right to your door. We deal in naturally sourced premium olive oil. We are known for our sustainably and responsibly sourced products. For more information about us, contact us at (425) 243-9574, reach out to us at care@puraolea.com, or fill the contact form.
We are here to help!
150 Etruria St.,
Seattle, WA, 98109
care@puraolea.com
Sign up to our mailing list