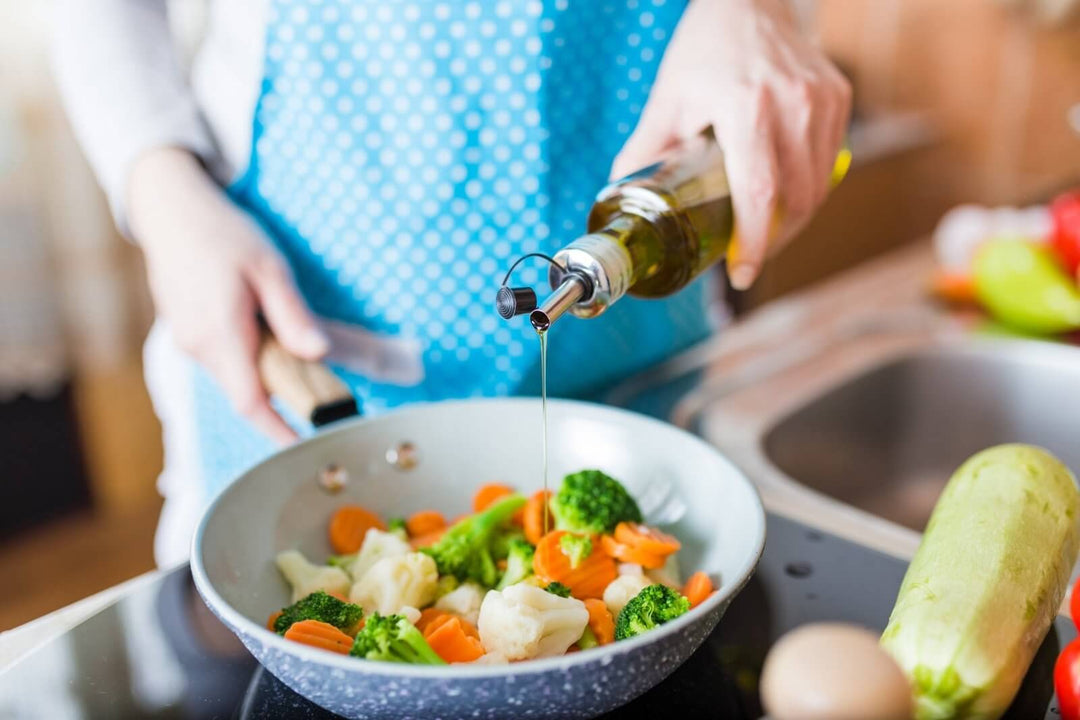 Posted on
---
Not many people talk about cooking with olive oil despite commonly using it in pasta and salads. However, it is a staple element of the Mediterranean diet and is one of the most nutritional food items in the world.
Olive oil is healthier than many other cooking oils and is famous for good reasons. Below, we have talked about the advantages of cooking with olive oil.
1. Reduces oxidative stress- Olive oil, especially extra virgin olive oil (EVOO), is loaded with antioxidants such as lutein, hydrophilic phenols, and tocopherols. These antioxidants can protect your body from cellular damage due to free radicals produced by your body during metabolism. These radicals cause oxidative stress within the body and may even lead to life-threatening diseases such as cancer.
2. Boosts heart health- Polyphenols present in olive oil protect you from cardiovascular diseases and atherosclerosis. Olive oil also prevents low blood pressure, oxidation, and improves the blood vessels linings.
In a recent study, experts found that people who exclusively consumed olive oil had a 41% lower risk of stroke as compared to people who never consumed it. Higher plasma oleic acid present in the oil is associated with lower stroke incidence. So, the oil offers protection from heart strokes in older subjects. 
3. Prevents inflammation- Chronic inflammation can lead to health problems like type 2 diabetes, heart disease, arthritis, obesity, and more. The antioxidants present in olive oil act as anti-inflammatory drugs and reduce inflammation. Moreover, fatty acids present in olive oil reduce levels of inflammatory markers.
4. Improves brain and mental health- Eating meals prepared with EVOO positively affects your brain's blood vessels and can also prevent Alzheimer's. It also offers protection to your nervous system and helps fight anxiety and depression. Moreover, olive oil is loaded with monounsaturated fats, making it great for your overall body health.
5. Improves gut and liver health- Phenols found in olive oil change the microbes in the digestive tract, boosting your intestinal immunity and gut health. Thus, olive oil is particularly more beneficial for people who have ulcerative colitis.
Cooking your food with EVOO will also help prevent damage to the liver as the monounsaturated fatty acids present in it help fight insulin resistance and inflammation.
How to get the maximum advantages of olive oil for cooking?
Before cooking with olive oil, you must first know that all cooking oils have a smoke point, i.e., a temperature at which the oil begins to smoke or break down. If you heat the oil beyond this smoke point, the nutrients start degrading, and harmful compounds start forming. Therefore, you must avoid frying food items in olive oil because of its low smoke point.
The highest temperature point upto which you can use olive oil for cooking is 405F.
You can use olive oil for mild cooking to retain its goodness and nutritional value. Moreover, since olive oil is graded as per the extraction process, you can choose the one that can withstand the temperature at which you would cook, thus, making it more beneficial for your health.
About Pura Olea
It is pretty clear now that there is no better oil to cook with than olive oil as it offers all the above-mentioned benefits plus more. At Pura Olea, we sell premium quality olive oil extracted from specially handpicked olives. Our clients choose us for our rich, flavorful olive oils. For more information about the advantages of olive oil for cooking or buying our products, contact us at (425) 243-9574, care@puraolea.com, or fill out our contact form.
We are here to help!
150 Etruria St.,
Seattle, WA, 98109
care@puraolea.com
Sign up to our mailing list